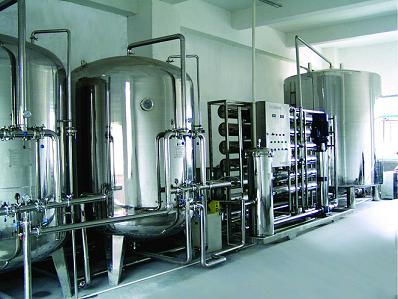 Commercial Reverse Osmosis System
Reverse osmosis (RO) technology, also known as hyper filtration, is used in our Commercial & Industrial Tap and Brackish Water Reverse Osmosis Systems to purify water by removing salts, contaminants and other impurities. It is also capable of rejecting bacteria, sugars, proteins, particles, dyes, and other constituents that have a molecular weight of greater than 150-250 daltons. These unique systems are the backbone of the water treatment industry.
 Reverse Osmosis Systems designed for heavy or continuous duty service in many water applications where quality and dependable performance are key elements. Our standard Tap and Brackish Water Reverse Osmosis Systems are available with capacities ranging from 25 GPD to 900,000 GPD. Our engineers and water specialists are also capable of manufacturing custom designed Reverse Osmosis Systems to fit our customer's water application needs.
Water Treatment System
We offer a range of Water Treatment Systems that include different equipment and instruments for effective results. Precisely engineered, these comprises of:
Water management systems Dosing Systems
Multimedia Filters
Iron Removal Filters
Micron Filters
Activated Carbon Filters
Softeners
Demineralization Plant
Degasified
Reverse Osmosis Desalination Plant
UV Sterilizer
Ozonator
De-Mineralized Plant

We offer our clients with de-mineralized plant that is used in conditioning water for high pressure, conditioning various process and rinse water. This plant is manufactured using high grade raw material and latest technology, which make it high performing. Some of the striking features of the plant are:

Its ion exchange system is selected as per the volumes and composition of the raw water being processed

The effluent quality of the plant is required for different uses, the comparative capital and operation cost

In case silica is not required to remove, the system may consist of a hydrogen cation exchanger unit and a weekly basic anion exchanger unit and usually a degasifier. This is done to remove most of the carbon dioxide formed from the bicarbonates by aeration

Call us :033-4040-4444

water purification, reverse osmosis, water softeners, water treatment, reverse osmosis systems, water filtration, ro products, reverse osmosis products, commercial water treatment, water purification systems, sea water reverse osmosis, membranes softening, custom built water treatment systems, double pass reverse osmosis, cartridge filters, automatic water softeners, ultra violet sterilizers (uv), custom water maker units, nitrate removal, chemical dosing systems, ozonation systems, chlorination systems Pakistan ,lahore,islamabad